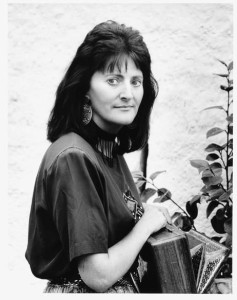 "Ní Riain's art is a global one, celebrating the folklore of her homeland and the exotic beauty of Eastern melodies and instruments."
(Billboard Magazine).
Nóirín Ní Riain's musical and personal background is rooted in the traditions of Ireland. Born in Caherconlish in County Limerick, Nóirín studied music at University College, Cork. She later gained an M.A. degree for her research on traditional religious song in Irish. This research provided Nóirín with the inspiration and the basis for recordings with the Benedictine monks of Glenstal Abbey, as well as books, articles and recordings on aspects of women's songs and the religious song tradition in Ireland. Nóirín is the honoured recipient of many old style songs collected by her mentor and teacher, Pilib O Laoghaire, some of which are included on her Living Music album, Celtic Soul.
Nóirín also feels a sense of kinship with India: its culture, people and song have also been very important to her over the past ten years. She has learnt many spiritual songs in Hindi in India and in Ireland. Nóirín's Living Music album, Celtic Soul, is imbued with Indian influences, reflecting her interest in spiritual songs in Hindi as well as her traditional Irish personal and musical base and her classical training.
Frequently accompanying herself on Shruti boxes (Indian drones), Surpeti (Indian harmonium) and a reproduction of the medieval Symphony (early hurdy gurdy), Nóirín Ní Riain performs regularly in Ireland and worldwide. She has introduced the Dalai Lama in song to an interfaith conference as part of an international peace gathering in Costa Rica and has also represented Ireland at many recent international gatherings, such as the United Nations Summit in Rio de Janiero in 1992, where she performed at the closing session for Religious and Spiritual World Leaders, and the UN Earth Summit in Copenhagen in 1995. She performed at the United Nations Conference on Women in Beijing, China, and has been selected three times by the Irish government as the national delegate for cultural exchanges to India.
Nóirín has performed on many occasions with Paul Winter and the Consort, and has often joined Winter in his annual Winter and Summer Solstice Celebrations in New York's Cathedral of St John the Divine. With Living Music, she is a featured soloist on the live recording of the Winter Solstice Concert, Solstice Live! Nóirín's stunning debut album for Living Music is Celtic Soul.
"Wherever she performs, her music has a universality and timelessness that leads listeners to become centred in their own spirits. She searches for music that grips the soul. The resonances are always there and language is no barrier." (Intercom)
"She wraps us in a magical web of enchantment with her traditional Irish tunes sung in Gaelic. Nóirín truly has the voice of an angel." (New Dimensions)