Silver Solstice
Purchase This Album
Track List
Disk I
Opening Calls
Tomorrow is My Dancing Day
Sun Singer
Sound Over All Waters
Kurski Funk
Dawnwalker
Before It's Too Late
Harvest Faire
Sara
Seoladh
Cathedral Forest
Belly of the Whale
Solstice Tree
Storm
Bells of Solstice
Return of the Sun
Solstice Chant
Disk II
Caravan at Dawn
The Lake
Luiza
Canyon Chaconne
First Ride
Icarus
The Rain is Over and Gone
The Cello and the Pipes
The Rising Moon
Down in Belgorod
Oror Bubrik
Silent Night
Song for the World
Wolf Eyes
Minuit/Auld Lang Syne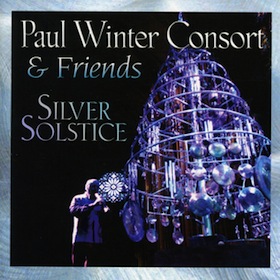 Since 1980, the Grammy® Award-winning Paul Winter Consort has celebrated the Winter Solstice, the seasonal rite of passage, with a musical feast from the cornucopia of cultures and creatures of the world, at thee Cathedral of St. John the Divine in New York. To commemorate their 25th Annual Winter Solstice Celebration, Living Music released a box-set entitled Silver Solstice, featuring the Consort with a host of special guests. The album includes the entire performance of the 25th celebration, plus 10 tracks from previous years' solstice events. The box-set presents the 142 minutes of music on 2 stereo CDs, and also in Surround Sound on one bonus DVD-Audio disc.
For three decades, Paul Winter has put forth his musical vision of the community of the Earth, beginning with his landmark album COMMON GROUND in the 1970s. Silver Solstice embraces the musical traditions of many cultures, and includes voices from what Winter calls "the greater symphony of the Earth" – whale, wolf and uirapuru (the musical wren of the Amazon rainforest) – a trilogy of voices representing the sea, the land, and the air.
The special guests on Silver Solstice include gospel singer Theresa Thomason, Brazilian diva Luciana Souza, sean nos (old style) Celtic singer Noirin Ni Riain, Armenian singer and percussionist Arto Tuncboyaciyan, Brazilian guitarist Oscar Castro-Neves, Irish Uillean piper Davy Spillane, Grateful Dead percussionist Mickey Hart, mbira master Chris Berry, and the nine-voice Dmitri Pokrovsky Ensemble from Russia.
"For the last 25 years, Paul Winter a been performing winter solstice shows in the Cathedral of St. John the Divine in New York City. By and large, this is where he has stretched his music, working with virtuoso players from across the musical spectrum, but especially world music. Silver Solstice is the definitive document of this annual event. In addition to the two main discs, there is also a DVD-Audio disc with 5.1 surround mixes that puts you in the middle of the Cathedral." – John Diliberto