What is it?
The Adventures in SoundPlay Workshop offers you the experience and tools to enable you to make your own music, grow your own pieces, create your own "bands," and for you to BE as music in your life, resonant with your world, confident of the song that is you. The process strengthens your appetite for adventure in life and gives you confidence to pursue your dreams. It awakens a quality of aliveness to ourselves and our environment. We humans refer to states of heightened awareness as "peak experiences," a label that implies how infrequently we know this condition of full aliveness. In music-making, it is possible to reach this state quickly and sustain it.
Who is it for?
This workshop is for anyone who has an interest in self-expression. These adventures are intended to offer liberating experiences for the shyest person, who may have been told in the 4th grade that they "couldn't carry a tune in a paper bag," as well as for the classically-trained musician who has yearned to play freely without direction from a printed page. Adventures in SoundPlay is based on the premise that all people have a well-spring of music with them, and that the expression of this music can be easily brought forth through a shared experience in music-making.
How does it work?
THE PLAYING IS ALL DONE COLLECTIVELY usually in groups of 4. No one is prevailed upon to solo. MOST OF THE PLAYING WILL BE DONE IN TOTAL DARKNESS in which we quickly can move into deep- listening modes, and out of inhibitions and self-consciousness, as well as fear of being judged. (Nobody's watching when we're in the dark.) THERE WILL BE NO AUDIENCE: everyone present will be a participant; no spectators. THIS IS NOT A MASTER CLASS. The goal is to get clues toward mastering your own unique musical offering for yourself and/or for the world. THERE IS NO JUDGING, NO COMPETITIVENESS. After each collective "adventure," we simply share our personal experience of playing or listening. THIS MUSIC IS ABOUT "US." Our approach to free-play is not aimed at creating virtuoso improvisers – in a jazz, or baroque or any other tradition. The goal is democratic inter-play. The simplest playing – even one held sound – can be integral to this. IT'S A VACATION FROM THE VISUAL (which dominates our lives). A vacation from:
the printed page
from watching, and being watched
from judging, or wondering if you're being judged
IT'S A VISIT TO THE WARM AND WELCOMING REALM OF THE AURAL
of immersion in "deep-sea" listening
of immersion (and even getting lost) in our imagination
A visit to the living present, in which we can be glad with how and who we are, right now; and 
glad to feel connected to the world.
ABOVE ALL, 
IT'S FUN! ALL INSTRUMENTS AND VOICES ARE WELCOME. 
 My fond hope is that we will have players from all the orchestral families – strings, double-reeds, single reeds, brass, percussion, keyboards, voices, as well as ethnic world music instruments.
The SoundPlay Process
A word on semantics:
 There are often inhibitions associated with playing music, and I like to overcome those as quickly as possible. So in the workshops I suggest a moratorium on "loaded" words – like "improvisation" and "talent". Instead of the word "improvise" I sometimes suggest the word "noodle." You may not think you've ever improvised, but most everyone has noodled around at one time or another, when you were next to an instrument (such as a piano.) But the more dignified term I like is "sound-play." 
Each of us has a well-developed instinct for spontaneity which we use all of our speaking lives. In sound- play we are simply using the language of sounds. Imagine four people with diverse instruments in chairs in a small circle, and we say hello to each other by simply playing one random sound, and holding it in this spontaneous chord. The chords are inevitably rich (I've never heard one that didn't sound great, given that my ears have been stretched by listening to Stravinsky, Bartok, Stan Kenton, etc.). We are on our way. We simply move on from there, making sounds in the dark, perhaps regarding it as a conversation of sorts, or just simply a safe adventure into the unknown. Any sound is acceptable. (Our only rule is that "there is no such thing as a wrong note.") Eventually, after a few minutes, the collective sound-journey ends, and then we bring up the lights a bit, and simply share our experiences – first the players, and then the listeners. And we then shift to another foursome. Everyone gets to take part, whenever they want. And then we have foursomes around the room, and other adventures.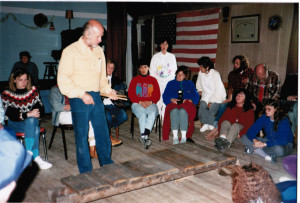 This is not about developing sound-play (free-play) as a performance context – as in avant-garde or jazz circles. It's more like a kind of sound-yoga that we do together.
You will learn how easy it is to conduct these workshops, if in the future you have opportunities to lead some educational sessions.
The Evolution of the SoundPlay Adventures
I began this path of free collective interplay in 1968, when Paul Stookey (of Peter, Paul and Mary) who was producer of our first two Consort albums, came back from a Japan tour with a Koto and gave it to us, saying: "Here, maybe you guys can do something with it." The interesting 5-note scale of the koto strings' tuning made me want to try to make some music with that flavor. This led us to try a four-way free improv with cello, alto flute, English horn and sax. It sounded gorgeous, and opened the door for us to play freely together. We found that if we were listening, and responding to each other, there was magic. We began playing one "free piece" with all the lights turned out in every concert. They were often the high point of the concert, since the listeners knew we didn't know what we were doing, and the intrigue of this adventure into the unknown was contagious. After the Consort was asked to do a residency of "master classes" at the Hartt School of Music in 1971, we found we were less interested in showing kids how we did something in a masterful way (as in jazz workshops) and much more fascinated with how to unlock the unique music inside each person, by giving them safe, fun contexts for free interplay. No "wrong notes", no worship of virtuosity, the dissolving of fears – all these things served to open new paths for people.
I've conducted 200 or 300 of these sessions at universities, and at the "watering holes" like Esalen, Kripalu, Omega, and other centers, all over the country. As deeply committed as I am to creating the best music I can in my professional work, I often think that the best gift I might offer the world will be to opening doors for others to the possibilities of making their own music.
"For me, music is an expression of vital living and life at its best; it holds the same kind of energy and gratitude. Sound is remembered by the body, and it's a physical experience. You can listen to it countless times. The ear is untapped yet in terms of how it can serve us." – Paul Winter