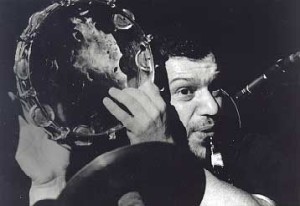 "I don't sit down and write music. The music I play is the sound of my life," says Arto Tuncboyaciyan. "Something happens, good or bad, and it inspires me. And when music becomes the sound of your life, your life becomes music."
It is the sounds of his life that are reflected in Arto's latest album, released by Living Music, called EVERY DAY IS A NEW LIFE.
Born to an Armenian family, life for Arto began in Turkey, where at a very early age he became a well-known studio musician. He immigrated to the United States in 1981, and since then has collaborated with an array of outstanding jazz and world music artists. Although he has made a wealth of recordings with other musicians, EVERY DAY IS A NEW LIFE is Arto's debut US album. The 11 original compositions on this new release reflect Arto's multicultural outlook as well as the experiences which have marked his life, such as the sudden death of his brother Onno.
The youngest child in his family living near Istanbul, Turkey, Arto has been open to other cultures from an early age. Growing up as a member of Turkey's beleaguered Armenian community meant that Arto and others like him were unable to explore their own cultural heritage. Arto's father was a shoemaker, but his brother, Onno, became a bass player and composer, and Arto soon followed in his footsteps.
By the age of 11 Arto was one of several percussionists in a band with Onno, playing traditional and popular Anatolian music. Arto says: "My brother Onno taught me how to communicate with people and with life. It was always a pleasure to be involved in any project that he was involved with; not because he was my brother but because he was a great artist." When Onno formed his own band, playing in a more Westernized style, Arto joined him, playing trombone and percussion. With his brother's support several years later, and after having appeared on over 2000 recordings, Arto left Turkey for America looking for an environment condusive to greater personal expression.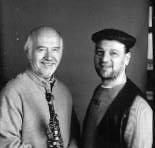 Arto has performed and recorded with an array of outstanding jazz and world music artists, including popular Greek artists such as Eleftheria Arvanitaki, as well as the Spanish guitarist Gerardo Nuñez, and Joe Zawinul, Al Di Meola, Oregon, Joe Lovano, Wayne Shorter, Don Cherry, Arthur Blythe, Omar Faruk Tekbliek, Nan· Vasconcelos and many others. The sudden loss of Arto's brother Onno in a plane accident in 1996 gave birth to two albums created by Arto with Ara Dinkjian and recorded in Greece. Arto has also recorded with Ara Dinkjian as a member of Night Ark.
Since 1998, Arto Tuncboyaciyan has been a regular performer with Paul Winter and the Earth Band. He is the featured artist on Paul Winter's Grammy-nominated JOURNEY WITH THE SUN (Living Music 2000), and the Grammy® Award-winning MIHO album (Living Music 2010). Arto Tuncboyaciyan also performs in Armenia and internationally with his Armenian Navy Band.
Besides the vocals on EVERY DAY IS A NEW LIFE, Arto also plays sazabo, duduk and percussion. Blending elements and styles, Arto's compositions not only speak to us of his personal experiences but they also reflect his openness toward other cultures. Arto himself says: "When people accept me as who I am, I feel like the World is my country."