Journey with the Sun
Purchase This Album
Track List
Caravan at Dawn
First Oasis
Broken Arm
Mountain Wedding
Cave of the Winds
Pas de Deux
Singing to the Mountain
Middle Oasis
Yaku
Green Grass, It Grows Bonny
Last Oasis
Land of the Pipers
Oror Bubrik

>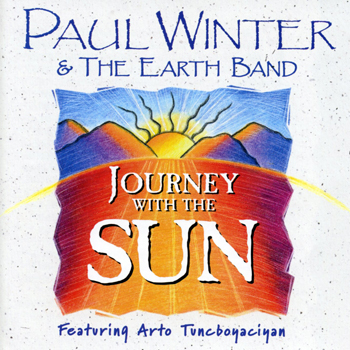 Nominated for the 2000 Grammy® for World Music.
JOURNEY WITH THE SUN presents the adventures of a caravan of world musicians, recorded in the great space of the world's largest Gothic cathedral.
"[A]n all-star album that makes you listen because it's new and exciting and not because he's a safe brand name. Taking his playing to a new level, with a new edition of his Earth Band, Winter remains the top enchanting musical story teller."
– Midwest Record Recap
Grammy-Winner Paul Winter presents his Earth Band, featuring the Irish piper, Davy Spillane (of 'Riverdance'), l Armenian vocalist and percussionist Arto Tuncboyaciyan, cellist Eugene Friesen and keyboardist Paul Halley (long-time members of the Paul Winter Consort) along with special guest Mickey Hart (of the Grateful Dead) playing his new instrument, RAMU (Random Access Music Universe), and a caravan of 9 other world musicians, on a journey of new musical adventures born of Winter's renowned annual Solstice Celebrations.
MUSICIANS
Paul Winter
Arto Tuncboyaciyan
Davy Spillane
Eugene Friesen
Paul Halley
Mickey Hart
Niamh Parsons
Vardan Grigoryan
Damian Draghici
Jerry O'Sullivan
Zan McLeod
Jordan Rudess
Jim Beard
Dorothy Papadakos
Eliot Wadopian