A Celebration of Pete Seeger "Pete-Pak"
Pete CD track list
Well May the World Go
My Rainbow Race
Huddie Ledbetter
The Water is Wide
All Mixed Up
Sailing Down My Golden River
Kisses Sweeter than Wine
Living in the Country
How Can I Keep from Singing
Garbage
Natural History (Spider's Nest)
Old Devil Time
Of Time and Rivers Flowing
In the Evening
To Everyone in All the World
River of My People
Russian Song/Ode to Joy
To My Old Brown Earth
Pete Seeger at the Living Music Festival DVD contents
Living Music Festival (1982)
"Pete-nic" (1997)
Pete Seeger Solo (2005)
Pete-Pak
For all ages
Label: Living Music
SRP: $25
Run time: 63 minutes, CD. 77 minutes, DVD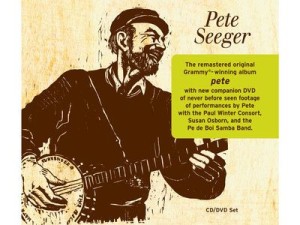 The re-mastered original Grammy–winning® Pete Seeger album Pete, packaged with videos of Pete Seeger with the Paul Winter Consort, Susan Osborn, and the Pe De Boi Samba Band. To purchase, click here.
"What I want to do with this album is give people something theat encourages the creative process and gets people out of the boxes they've been put in." – Pete Seeger
"Like Bach, Pete Seeger is the summing-up of an entire era. He is a treasury of American music, and more that anyone I know, Pete gives voice to the soul of this country." – Paul Winter
Pete Seeger's 1996 release, Pete, was the legendary musician's first album to win a Grammy. Co-produced by Paul Winter, Pete is regarded by many as the last great album from an American icon who shares a place in our history with the likes of Mark Twain, Carl Sandburg, Robert Frost and Woody Guthrie. A fully remastered edition of Pete, partnered with a new Pete Seeger at the Living Music Festival DVD featuring three historic videos of Pete Seeger in performance, comprises the Pete-Pak CD/DVD set.
The re-mastered original Grammy–winning® Pete Seeger album Pete, packaged with Pete Seeger at the Living Music Festival DVD, featuring videos of Pete Seeger with the Paul Winter Consort, Susan Osborn, and the Pe De Boi Samba Band.
Of the Pete CD, Paul Winter says, "I think of this album as a 'Pete Seeger primer' for the younger generations who are not yet familiar with his music, and as a 'grand reunion with Pete' for the countless number of folks who grew up on Pete Seeger and hadn't heard from him in years. I wanted to produce this album simply because I love Pete's music, and by 'music' I mean to include his singing, his songs, his stories, his great instrumental playing, is passion, his humor, and his kindness."
Pete Seeger at the Living Music Festival DVDfeatures three historic videos, which, seen in sequence, present a document of the graceful aging of a splendid artist known for his vitality and commitment to the highest standards of liberty, equality and justice, spanning 23 years of the latter part of Pete Seeger's life.
Reviews
Jazzman Paul Winter persuaded American folk pioneer Pete Seeger to return to the recording studio for 1996's Pete, his first album in 17 years (and first to win a Grammy award). It seems a little more formal than usual, but the presence of three choirs and Winter adds a delightful texture and undeniable beauty. Most of the tunes are familiar — such as "Kisses Sweeter Than Wine," "The Water Is Wide," Time and Rivers Flowing."  But the presence of producer Winter's saxophone and the choirs seems to invigorate the singer and the songs.
The remastered album would be welcome enough on its own, but this package includes a DVD, Pete Seeger at the Living Music Festival, which was recorded in 1982.
"The DVD has 18 songs, including "John Henry," "Wimoweh" and "Old Time Religion."  A couple of bonus features enhance the program, including a 17 minute "Pete-nic"  from 1996, celebrating Pete's Grammy. A richly detailed booklet shares Winter's recollections and experiences with Seeger. Fans should enjoy it.
Hot tracks: for Seeger fans, all.
` -Ellis Widner, Arkansas Democrat Gazette
PETE SEEGER/Pete (Pete Pak): Originally recorded when he was a mere sprat in his early 70s after having been ignored by the recording industry for almost 20 years, Seeger's long time friend and fan, Paul Winter, set up the mics and facilitated the recording for the set that would get Seeger his first Grammy. A set as timeless as the old gent himself, it sounds as fresh today as it did them and maintains is impressiveness, pretty interesting since most of these songs were from Seeger's back pages to start with. This is billed as a Pete Pak because it includes a DVD of previously unreleased performances that go back more than a few years but are still charming and engrossing nonetheless.
-Chris Spector, Midwest Record
Since [Pete Seeger's] death, there have been a number of reissues of his work. The latest is a remaster of his first Grammy winning album Pete, originally issued in 1996 when he was 77 years old. This release is combined with a DVD that covers 23 years of his career. First is a 55-minute live performance with Paul Winter and friends at the 1982 Living Music Festival in Litchfield, Connecticut. Next is "Pete-nic," which is a 17-minute spontaneous performance recorded at a picnic in 1997 by many of the musicians who had participated in the Pete project. Finally, there is a 2005 performance of "Take It From Dr. King," commemorating the 40th anniversary of the Pettus Bridge March in Selma, Alabama.
Pete is probably the best of Seeger's late career releases. It combines traditional folk tunes, a number of covers, and two originals. "John Henry," "Drunken Sailor," "Roll The Old Chariot Along," and "Old Time Religion" are the type of songs that have graced Seeger's repertoire for most of his career. These are songs that have no known author but have undergone changes due to time and place, and Seeger's interpretations are another link in their chain. The two originals, "My Rainbow Race" and "Well May The World Go," are poignant songs from a man nearing 80 years old.
Most of Seeger's albums have been sparse affairs, but here many of the songs are within a band setting, including sax, cello, and guitars. It is a rare nod to the modern age by a traditional artist.
The Living Music Festival live performance presents a 63-year-old Seeger at the top of his profession. He is joined by The Paul Winter Consort and they form one big group. Seeger is relaxed at this show and his banjo play is some of his best. The concert was recorded with three cameras and meant for release, but it ended up sitting in the vaults for 33 years. This show is a highlight for any Seeger fan.
Seeger was an uncompromising traditionalist. Many of his songs had a meaning and message. Pete-Pak is a celebration of culture meeting music.
-David Bowling, Cashbox