The Man Who Planted Trees
Purchase this CD or digital album
Jean Giono's beloved and empowering story, read by Robert J. Lurtsema, with ravishingly beautiful music by the Paul Winter Consort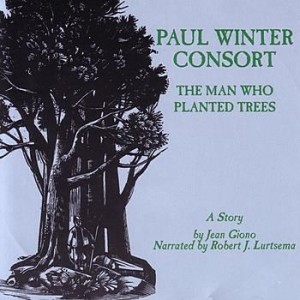 "A nature-loving listener can't go wrong with Jean Giono's The Man Who Planted Trees. [..] The reading is enhanced with a dreamy score of woodsy music played by the Paul Winter Consort." — NEW YORK TIMES REVIEW OF BOOKS
THE MAN WHO PLANTED TREES is the story of Elzeard Bouffier, a man of great simplicity and determination. Bouffier, having lost his wife and son, retreats to a remote and desolate part of France. "It was his opinion that this land was dying for want of trees". So, alone with his dog and his sheep, he commences his life work – the steadfast planting of one hundred acorns each day.
"Jean Giono's story of man's generosity to nature – and through nature to other humans – surely belongs among the most moving and endearing statements of our hope. The story – vision and parable and manual – correctly opposes the tree planter, the earth-husband, to the makers of war. In the figure of Elzéard Bouffier, Giono summarizes the best that can be said of our species." –WENDELL BERRY 
The story chronicles the enormous contribution that one person can make to the earth. Over the course of thirty years, laboring in peace, without interuption, and in complete anonymity, Bouffier transforms the landscape. Once desiccated, ravaged by relentless winds, and foresaken by people, the region is brought back to life by Bouffier's trees.
The Consort and Earth Music Productions bring this powerful eco-fable to life in this special recording with narration by the late Robert J.Lurtsema, former host of one of North American public radio's most popular innovative music programs, WGBH's "Morning Pro Musica". The lyrical and rhythmic music of the Paul Winter Consort reinforces the story's message of hope.
"This story can be enjoyed by children as well as adults, and gives the listener a positive message about what can be accomplished by a single dedicated person. The music is appropriately uplifting, complementing and supporting the voice of the storyteller. Its like a play made for radio, and Winter's music enhances the telling of the tale." –NEW AGE VOICE