Earth Music
Purchase This Album
Track List
Cathedral Forest
Wolf Eyes
Sax-Wolf Duet
Sea Song
Sun Singer
Dancing Particles
Eagle
My Father's Smile
Canyon Chaconne
Belly of the Whale
The Rising Moon
Sunderland
Adagio
And the Earth Spins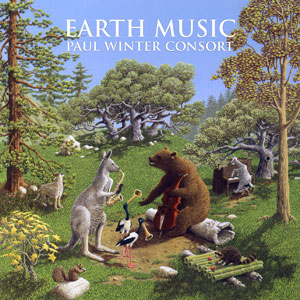 Throughout the several decades of the Consort's journey, the most perennial question we've been asked has been: "What do you call your music?" "Earth Music" is the response I've most often given, as that term embraces the totality of our field of play, and our long-going aspirations to celebrate the cultures and creatures of the whole Earth.
I feel it's time to put forth the answer with music, in the form of an album. Included are pieces celebrating the Grand Canyon, the old-growth forest of our Northwest, the ocean, the moon, and our star, the sun, with its quadzillions of dancing particles. Consorting with us are representative voices from what we think of as "the greater symphony of the Earth": Spotted Owl, Timber Wolf, African Fish Eagle, and Humpback Whale. And no album or concert to me is complete without an offering from the great mentor of our Consort heritage, Johann Sebastian Bach, whose music awakens in me a resonance with the soul of the Earth.
We have been blessed to have had many opportunities and adventures over the years, and to have been able to pursue our mission of creating music of beauty in the service of the community of all life.
Thank you for listening,
For living music,
Credits
Paul Winter / soprano sax
Paul McCandless / English horn, oboe
Eugene Friesen / cello
Rhonda Larson / flute
John Clark / French horn
Mark Perchanok / Heckelphone
Paul Halley / piano, pipe organ
Paul Sullivan / piano, keyboard
Jeff Holmes / piano
Tim Brumfield / pipe organ
Eliot Wadopian / bass
Russ Landau / bass
Glen Velez / percussion
Ted Moore / percussion
Jamey Haddad / drums
Paul Wertico / drums
Gordon Gottlieb / timpani
Kenny Mazur / steel-string guitar