Brazilian Days
Purchase This Album
Reviews

Lyrical instrumental interpretations of bossa nova tunes by Antonio Carlos Jobim, Marino Pinto, Carlos Lyra and others feature " Winter's liquid soprano sax, Castro-Neves' rich chord voicings, and solid but supple backing from bassist Nilson Matta and drummer Paulo Braga. [..] A long-overdue collaboration between two gifted and well-traveled musicians. " (Billboard Magazine)


"Winter and Neves's Latin sound goes down smooth, seductive and sophisticated [...]. Castro-Neves whips out those bossa chord changes as if he's taking a Sunday stroll, while Winter's lilting tone becomes even more pronounced. Like a warm Rio breeze, he wraps his soprano saxophone around melodies by Jobim, Carlos Lyra, Noel Rossa and other Brazilian composers." John Diliberto in PULSE


"Antes de grabar con lobos, y cuando aún no imaginaba que iba a dejar volar el sonido de su saxo soprano por el Gran Cañón del Colorado, Winter visitó Río de Janeiro con un sexteto de jazz. Eran tiempos de bossa nova y el joven norteamericano se enamoró de esa música. Regresó y se instaló en Ipanema. Casi cuarenta años después confiesa que la delicadeza de la bossa cambió para siempre su manera de tocar. Y junto a su amigo, el guitarrista brasileño Castro-Neves, se llena de nostalgia en esta colección instrumental de bellísimas canciones de entonces." Carlos Galilea en EL PAIS (Spain)


"Un disco con los aromas melódicos de Río en el que las recetas propias encuentran natural acomodo con otras de Vinicius de Morales y Antonio Carlos Jobim. [...] Winter despega inmejorablemente en la bossa…" Luis Martín en ABC (Spain)

Track List
Aula de Matemática
Coisa Mais Linda
Feitio de Oração
Feio Nao E Bonito
Minha Namorada
Tambén Quem Mandou
Ana Luiza
Feitiço da Vila
Canto Triste
Imagem
Por Causa de Você
Se é Tarde me Perdoa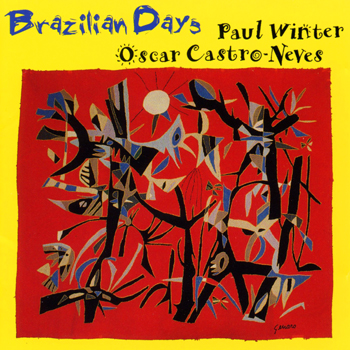 It is a testament to the universality of Bossa Nova that BRAZILIAN DAYS, the Living Music set from saxophonist Paul Winter and guitarist Oscar Castro-Neves, began life in the loft of Winter's rural Connecticut barn. It was there in the bright New England spring that the two old friends and master musicians poured through a virtual treasure trove of Bossa Nova classics, and began to shape the contours of what would become their premiere duet album. The results are nothing less than a stunning rebirth of one of the most influential popular music styles of the last fifty years. (Listen to sample track.)
Considering that Winter and Castro-Neves have been friends for more than thirty years, and have collaborated on many prior projects, it's a bit surprising that the two had never recorded a duet album. "It's been a long-standing dream of ours to do this," notes Winter. "Things really started to percolate when we were in Rio together for the Earth Summit in 1992. We played a series of gigs then, and it was so gratifying, we knew we simply had to make an album together." Castro-Neves later joined Winter at his Connecticut home, where the two surveyed a definitive Bossa Nova collection compiled by famed Brazilian music publisher Almir Chediak, jamming for several days and working up arrangements of more than 150 incomparably beautiful songs.
"It was a lot of fun for me," recalls Castro-Neves of the experience. "It was a way of looking back, of revisiting my past." As one of the true pioneers of the Bossa Nova movement, Oscar speaks the truth. He was there in Rio de Janeiro in the late 50′s when geniuses like Antonio Carlos Jobim and Joao Gilberto first blended the impressionistic harmonies of Ravel and Debussy with syncopated rhythms of Brazilian music. Bossa Nova (Portuguese for "new touch") was born then, and it changed the world of music forever.
Winter and Castro-Neves took their time paring down 150 songs to a manageable number. In March of 1997, Paul and Oscar recorded demos of 50 favorites, and from there the final dozen were chosen. In September, the pair were joined in the studio by bassist Nilson Matta and drummer Paulo Braga, two seasoned veterans of the Brazilian music scene both in the USA and in Brazil. "It was a natural match," says Oscar. "Both musically and personally, it was an atmosphere of sharing." Adds Paul, "We wanted to be totally simple and totally gentle in the original Bossa Nova tradition."
Paul then packed up the master tapes and took one of his heralded recording expeditions to the Grand Canyon. He had previously recorded two albums, CANYON and CANYON LULLABY, in the pristine outdoor environment of the Canyon. "I had found a wonderful side canyon there in 1985 with amazing acoustics," says Winter. "We called it Bach's Canyon. Because I love how it feels to play there, I wanted to do my sax parts for BRAZILIAN DAYS there too. We back-packed into the Canyon a pair of DA-88 8-track machines, solar power gear, a mixing board, food and tents for a ten-day stay. It was amazing to be this far from civilization and to put on earphones and hear this exquisite Brazilian music. I closed my eyes and was in heaven."
Most of the songs on BRAZILIAN DAYS would likely be unfamiliar to North American audiences, who may readily recall classics like "Girl From Ipanema" and the theme from "Orpheus," but don't know the bulk of Bossa Nova standards. "We made no concession to commercialism," says Paul. "We didn't do the hits. We wanted to make an album with something of the same ingenuous attitude that Jobim and Gilberto had when they recorded their first albums in the 50′s."
Some of Bossa Nova's greatest composers are represented on the new album; Jobim, Carlos Lyra, Noel Rosa, Vinicius de Moraes, Edu Lobo and Luiz Eca among them. Songs include "Aula de Matemática," "Coisa Mais Linda," "Feito de Oração," "Feio Nao E Bonito," "Minha Namorada," "Tambén Quem Mandou," "Ana Luiza," "Feitiço da Vila," "Canto Triste," "Imagem," "Por Causa de Você," and "Se é Tarde me Perdoa." All are performed with characteristic grace and serenity, with understated eroticism and playfulness.
Credits
Paul Winter – soprano sax
Oscar Castro-Neves – guitar
Nilson Matta – bass
Paulo Braga – drums
Paul Halley – pipe organ on 'Canto Triste, 'Taméb Quem Mandou'
Cassio Duarte – percussion on 'Aula de Matemática', 'Feitiço da Vila', 'Se é Tarde me Perdoa'
Produced by: Oscar Castro-Neves and Paul Winter