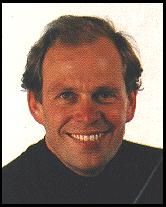 Pianist and organist, composer and performer, former Paul Winter Consort member Paul Halley has recorded many albums with Living Music. His classical training, his varied experiences and his instinctive, personal feel for his instrument are reflected in his performances and his recordings.
Born in England, Paul Halley grew up in Canada before returning to England to study music at Cambridge University. Appointed Musician Director in 1977 at New York's Cathedral of St John the Divine, the world's largest Gothic Cathedral, Halley spent twelve years transforming its music program into a rich combination of classical and contemporary music.
Paul Halley first met Paul Winter in 1980; Winter was the first to recognize Halley's talent for improvisation and invited him to join the Paul Winter Consort, with whom Halley performed, toured and recorded until 1999.
As a member of the Paul Winter Consort for nineteen years, Halley recorded many albums with Living Music, including the Grammy-winning albums SPANISH ANGEL and CELTIC SOLSTICE, the Consort's classic album CANYON, and Living Music's most recent Grammy-nominated album, JOURNEY WITH THE SUN.
As a soloist, Paul Halley has recorded two albums with Living Music. PIANOSONG is a collection of songs without words for piano. ANGEL ON A STONE WALL, recorded with the Paul Winter Consort, further explores Halley's range of composing, arranging and keyboard skills, drawing on his roots in jazz and classical traditions. NEW FRIEND is a duet album of improvisations by Paul Halley and Eugene Friesen for cello, piano and pipe organ recorded in New York's Cathedral of St. John the Divine.
Paul Halley is a gifted composer and arranger as well as pianist and organist. His compositions and arrangements can be heard on many Living Music recordings, including Grammy-winning PETE by Pete Seeger.
Halley left the Paul Winter Consort in 1999 to pursue his solo career, and form his own company.
"Paul Halley is an immensely creative musician who gathers inspiration from wherever the wind blows. Never a manufacturer of illusions, Halley feels the true impact of he creates because he understands the intrinsic relationship between music and life." (SOUND WAVES)