PETE SEEGER DVD "Living Music Festival"
Three short films on one DVD featuring folksinger and activist Pete Seeger.
The first film was recorded in  June, 1982, Paul Winter invited Pete to headline the Living Music Festival at the Mohawk Mountain Ski Area in Cornwall, along with the Paul Winter Consort, vocalist Susan Osborn, and Brazilian samba band Pe de Boi.Paul engaged filmmaker Phil Garvin to capture the event with a three-camera video crew; the tapes then gathered dust for 33 years. After Pete's passing in 2014, Paul located Phil and luckily he still had the original reels, which were then sent to a videotape restoration facility in Kentucky, and finally to a studio in Connecticut that made the conversion to High Definition digital.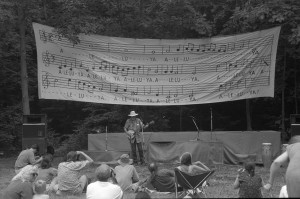 A second film documents a musical picnic, called the "Pete-nic", with Pete and the chorus of singers who collaborated with him on  the album, PETE, which won a Grammy® Award for Best Folk Album in 1996. Produced by Paul Winter, it has come to be regarded by many as Pete's last great album. The "Pete-nic" event took place at Paul Winter's farm, where the recordings were made.
A third short film, by videographer Dan Hofmann, captures a rare performance by Pete, who at age 85 came to Goshen, CT, in March 2005, to sing at a banquet hosted by the Harriet Beecher Stowe Society. The event was to honor the 40th anniversary of "Bloody Sunday," the Pettus Bridge March in Selma, Alabama, in 1965. Pete had received a telegram from Dr. Martin Luther King inviting him to come to that march, and Pete and Toshi Seeger had gone to Alabama and marched with the people for three days. At the Goshen event, Pete sang his song, "Take It from Dr. King".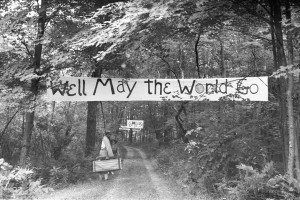 Pete Seeger's connection to Litchfield began early in his life-journey. He spent five years, from age 8 to 13, attending the Spring Hill Academy in Litchfield, during the late 1920s and early 1930s, on the site where the Forman School is today. Pete speaks, in the Living Music Festival film, of his nostalgia for his boyhood years in Litchfield.
Paul Winter and Pete met in the 1960s, through their mutual interest in ethnic instruments of the world. It was their performances together in various environmental benefits that led Winter to envision producing and album of Petes's songs celebrating the Earth. Paul Winter says of his long-time friend and mentor: "I think of this album as a 'Pete Seeger primer,' for the younger generations who are not yet familiar with his music; and as a 'Grand Reunion with Pete,' for the countless number of folks who grew up on Pete Seeger and hadn't heard from him in years. I wanted for a long time to produce this album, simply because I love Pete's music; and by the term 'music' I mean to include his singing, his songs, his stories, his great instrumental playing, his passion, his humor, and his kindness. Like Bach, Pete is the summing-up of an entire era. He is a treasury of American music, and more than anyone I know, Pete gives voice to the soul of this country."
The original PETE album has been remastered and released along with the new Pete Seeger DVD, "Living Music Festival." The CD and the DVD are also available separately.